Healthy Lifestyle
A quote by the Lifestyle Master Himself!
"Chronic illness is the single greatest threat to our health, to our quality and quantity of life, to our economy and to our standard of living. A full 80% of the adult population in industrial society has already developed chronic illness. By 2017, spending on chronic illness will reach $500 million per hour; and over $8 million dollars per minute in the U.S. alone. On a per capital basis, these figures are now representative of virtually every industrial nation around the world"
Dr. James Chestnut

Chronic Illness is a Lifestyle Issue
Lifestyle is well represented by all the choices we make regarding our health. It starts from how well our body and cells function (a well adjusted spine), to the food we eat, to the activity we do, to the thoughts we have, and to the amount of sleep we get.
Healthy Wellness Lifestyle
A healthy wellness lifestyle is well represented by all the choices we make to bring the body, mind, and spirit toward a state of balance (homeostasis), health and vitality!
It's really becoming the BEST VERSION OF OURSELVES.
We, at the Grand Falls Chiropractic Wellness Centre want to inspire you and guide you through that journey.
Our five steps to health are well presented by our new logo: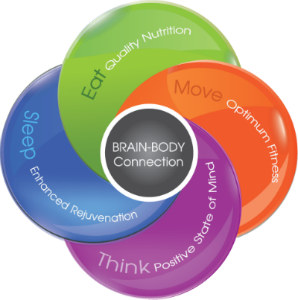 ßAdjusted
Eat Clean • ßFit  • Think+• Sleep Deep
A healthy well aligned spine = healthy nerve system = healthy cells and body function.
4. Think: Positive State of Mind!
5. Sleep: Enhanced Rejuvenation
---
At the Grand Falls Chiropractic Wellness Centre, we are grateful for the opportunity to witness nature's miracles and the privilege to serve others. Contact us today, so we can help you begin your journey to better health and wellness.
---
Grand Falls Chiropractic Wellness Centre | (506) 582-2000